Page 2 of 2 •
1, 2
Ok this could turn out to be a big post…
The way I see it, one of Triela's job/function is to protect her handler (Hillshire). But Hillshire doesn't want Triela to get hurt again so he's trying to keep her away from the action. When he got back to the hotel, Triela see that he got shot and realise that he went to do a mission without her. This doesn't work for her because 1- she's supposed to do most of the killing for him and 2- since he got shot, she feel like she fail her task to protect him.
Now here what I think is going on, Triela's conditioning is telling her that she did something wrong, her feelings for Hillshire (what is she for him, what is he for her and the way he's been taking care of her during this time frame like spending the holidays together and asking her to stay alone in the hotel) and all the problems she's currently having (having small memory lost and Angie's death may be a big part of it) trigger that big burst of emotions that she cant control and/or understand and she ran away (thinking that distance may help her understand or just running away from it).
I must also add something about the medication thing… like others have said, Henrietta and Triela's handlers (I'm sure Jean is doing the same to Rico too but ill get back to this later) are using the bare minimum of drugs on them… (And I'm almost certain that Triela is maybe not even using them. I don't remember if the part when Hillshire tell Triela that he was going to give her the meds if she need them is before or after this scene, but he does tell her to keep some on her in case of an emergency) But something's sure, the med are made to prevent something like this to happen and well since Triela is not taking much (or not at all) of the meds, she can have a conflict with her emotions and her conditioning.
Now we (well most of us) know what is happening after she runs out, but what is important to watch for is that even when she's back in the hotel with Hillshire, he doesn't give her drugs to calm her and she performs first aid on him. When he falls asleep, she try to run away again (saying something about not being a burden to him anymore) she stop and think about her feelings for him and all the events that happen in the past. Now knowing the full story of her past, she realise what he's being doing for her since the beginning, Imo Triela is now understanding that Hillshires had feelings for her from the start and it wasn't selfish action to make her feel happy but the real thing.
Some said that the girls mental age stay lock at the age they were turn into cyborgs. I think that they do evolve and get more mature with time, it may be slower for them but they are maturing. And btw, that's not the first time Triela runs away from Hillshire in the story, she does it too when she learn that she's going to ''babysit'' Mimi during Mario's testimony at the trial. (Now that I think about it, is it only in the anime or in the manga??? Must go see. (lucky I have that book with me today) Ok my bad it's only in the anime…
) But still the way she run is easy to explain: the way Yu draw her is the perfect way to visually describe what is going on. Show this page to anyone and they will know that –a young girl is running away while crying--.
Wow ok looks like I over did it I wrote way too much stuff… (Wrote that during my lunch break at work…) I sure hope this make sense. I will maybe edit a lot of it out later…
Last edited by ElfenMagix on Sun 20 Jun 2010 - 14:04; edited 3 times in total (Reason for editing : Fixed it.... EM)

Nic2001




Forum Posts

: 13



Registration date :

2010-06-15


Hillshire has Triela on a minimum dose setting. But as stated in another thread, this minimum is not the same as Henrietta's or Angie's minimum dose. This dose depends on many factors including weight and age of the cyborg, and initial conditioning programming given to that cyborg; IE: was the cyborg's past memory erased?

Secondly, as shown with other cyborgs (Claes and Angie), the cyborgs medicate themselves. They must do so because their handlers are not there to do it for them ALL THE TIME. Triela forgetting to self-medicate is something she did to inadvertently done to herself, and not something she was told to go. As seen, her dosage is set to keep her cybernetics running smoothly with her biology. Some emotional control maybe at play, but in her case it would be a minimal placement as her loyalty to Hillshire was already set by the initial conditioning program. She has already stated a long time ago, "love and conditioning are the same thing..." thus to her, she loves Hillshire. The problem here is how does one deal with their emotions of others? How does Triela deals with her feelings of Love/Conditioning to Hillshire? For a very long time she has denied herself because he has so wanted to 1)protect her 2)teach her and 3)keep it to a professional level. You can add 4)the man never had a relationship with anyone else because he forced himself into a Fast Track of Promotion and Career, which ended with the death of Rochelle and him joining he SWA. So he's cold to her with exceptions of times when he tries to be nice to her (giving gifts and as such). If the theory is correct, that for every christmas they have had together in the SWA, Hillshire gave her a teddy bear, Triela has recieved from him 7 of them. That makes it 7 years that they have been together through the SWA. 7 years is a very long time to have such feelings and not act on them.

And 7 years makes her older than Petra on Living Years, and closer to or past into her 20's (depending on where we agree she was turned into a cyborg). The girl is a woman in this stage of her life, of which she spent as a cyborg.

Thats my 2¢...

ElfenMagix




Forum Posts

: 5682



Registration date :

2007-09-21


Ok note to self, never post a wall of text from work again... Looks like i lost focus on what i was writing.

Elfen, im with you on this one, Triela is a woman stuck in a young teen body. I just hope her relation with Hillshire continues to grow and that they make it out alive at the end.

Nic2001




Forum Posts

: 13



Registration date :

2010-06-15


Honestly, I think it terms of the girls maturing mentally it needs to be taken on a case-by-case basis as different girls behave differently. So while we've seen Triela grow and mature into (and I'm in agreement here) a young woman in a girl's body others, like Rico... not so much. That could be down to any number of factors, technological and physiological. I mean, we've seen Triela mature, but she seems to have been converted at an age where she would have just started maturing toward adolescence and adult-hood so maybe that process that was started just carried on. 'Etta and Rico however seem to have been converted before that so they're frozen... just a thought.

As to the technological side, I've got to admit I tend to view each and every cyborg (and particularly the gen 1s) as a prototype. The SWA is testing medical technology here, so dislikeable as the prospect is, each girl I imagine would be to an extent treated as a different test chassis: a slightly different conditioning process here, different drugs there as each new development comes online.

That though I think is a discussion for a different thread.


On the subject of Hishire and Triela, I think that by the Venice mission... they're as confused about the whole thing as we are. Hilshire, as has been stated, was never the social butterfly. However, before Triela's jaunt to Mimi's they'd sort of settled into, if not a comfortable arrangement, then at least a status quo: Hilshire doing his best to fill a father/guardian role but never quite knowing how to read Triela's feelings and vice versa.

Then Hilshire gets himself shot, Triela misses a doseage of conditioning, has a small breakdown (oversimplification, but we're all familiar with it) and essentially gets her mental/emotional shit, if not completely sorted, then at least gets a few of the wrinkles ironed out. So now Triela's more solid on where she stands, but instead of pussy-footing around because she's not sure of how she feels she's now doing so because she's not sure how to deal with it. Remember, Hilshire was busy being passed out when she stole the kiss on the lips from him.

Skip to Venice, the relationship's moving on, the status is no longer quo and that's almost as confusing and possibly even more disconcerting for both tham what was going on before. It's probaly something both are cautiously happy about, but it would be disconcerting. So now Hilshire's got a girl who's returning the feelings he had (though I don't think Hilshire's were ever in a romantic sense) if not in the way he expected.

Triela's turning into a young woman who knows where she stands on the issue and would possibly like to take the relationship further. Hilshire's still seeing a girl and is having difficulty coming to grips with the idea that Triela has matured mentally and may be feeling something more than would be defined by the original father/daughter relationship he may have envisaged.

Alfisti




Forum Posts

: 5804



Registration date :

2009-07-21


amen to that if triela ends up dying in the end i dont know how i will react although i have the strangest feeling that because in every italian opera all the main charachters end up dying . and to answer your question weber i will finish it soon i have really dropped the ball lately so im off right now to read some more, also i have seen pics of them and heard of companys planning to and not doing it but does anyone know where i can get gsg figures specifically of triela and someone talked on here about a rumored third season by some company could someone please fill me in on what that rumour was . p.s. where did u get that avatar of triela

austinhowell




Forum Posts

: 259



Registration date :

2010-04-17


Triela to Hischer : One Side Love
Hilscher to Triela : Father and Daughter

She didn't acknowledge her feelings until Vol.10

Rockin AngelZz




Forum Posts

: 8



Registration date :

2010-07-02


I'm confident she acknowledged them as far back as Chapters 4 and 5, it's just now she is acting on them.

Kiskaloo

A Cat of Many Talents




Forum Posts

: 10928



Registration date :

2008-09-11



ElfenMagix




Forum Posts

: 5682



Registration date :

2007-09-21


Still Hischer was shocked when Triela grabbed his hand in vol.10

Rockin AngelZz




Forum Posts

: 8



Registration date :

2010-07-02


V10 or V11?
Either way, he was not expecting it for their relationship until then was hands off up to this point, though as much as he tried to make her loosen up around him and failed.
-------------------------------------------------------------------------------
If Fernando had Super Powers, He would be God!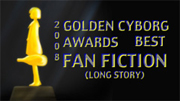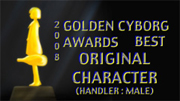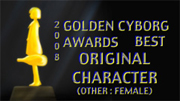 ElfenMagix








Forum Posts

: 5682



Location

: NYC NY, USA



Fan of

: Pia, Elsa, Cleas, Triela...



Original Characters

: Fernando & Rachel, Felix & Francesca



Comments

: He has super powers. He is God.



Registration date :

2007-09-21


A poor girl right??? She won't be able to have a happy ending with her love. Cyborg don't have a beautiful past or a good memories to remember and a beautiful future to reach. Her only reason to keep on fighting is to keep alive (if you ask why she must keep alive i don't know for whose sake)

Rockin AngelZz








Forum Posts

: 8



Registration date :

2010-07-02


Page 2 of 2 •
1, 2
---
Permissions in this forum:
You
cannot
reply to topics in this forum